I am so thankful for my new look on my blog- I must thank Shauna at
I guess this is one more post for 1000 gifts, because the day I stumbled on her little square and went and investigated Shauna and her blog as well as the design blog she's been a gift.
You really need to check her out, she is just precious. She is a beautiful lady outside and in. She is so cute!! And her husband isn't bad on the eyeballs either. She is a mother who is staying home with her children and using her talent to help others. That is a true gift.
She is very talented and timely. She can listen to you and the next thing you know you open your blog to blog and there before your eyes is your new and improved look that is yours alone.
Look no more for a friend to help you out, she's right there and she can bless you like she has blessed me.She really is so affordable when you look at some of the other design places and she creates like a Genius.

Click here and start your own great experience at a new look.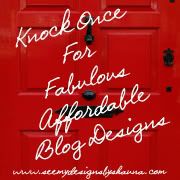 It's kind of the feeling I was talking about in my last post, about going to the hairdresser and leaving saying I look good, I feel good, and even I am a wonderful reflection of My Heavenly Father. Shouldn't we work at being His reflection in a world with so much that is not.
So , tell me how you like it-more importantly Tell Shauna-she is the one who blessed me with this new look. Read her blog also, you'll fall in love with her like I have-Blah Blah Blog
www.shaunacallaghan.blogspot.com
.
You can never have to many friends, especially not creative, beautiful ones who rub off on you:O)